---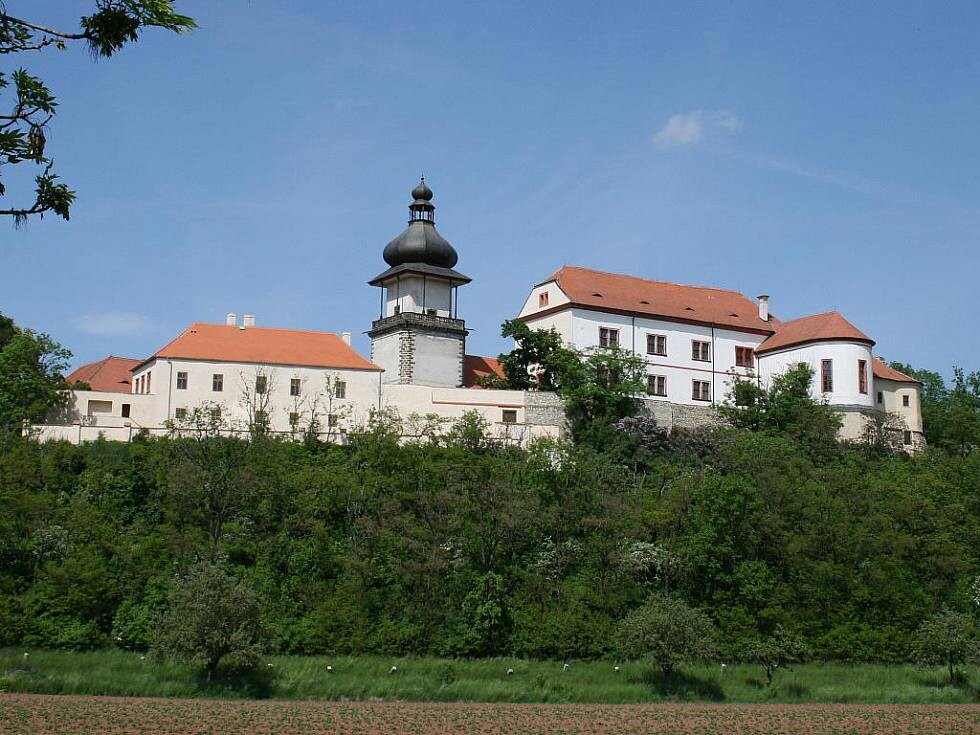 The castle rebuilt in the chateau above the villages of Jimlin and Zemchy on the way between the royal towns of Louny and Žatec was built between 1465 and 1474 by Albrecht Bezdružický of Kolowrat. With the new headquarters was created a new branch of the family - the Novohradské of Kolowrat.
The castle is situated on the top of the hill above the village Jimlin and Opocno, in the lovely rolling landscape of the river Eger (Ohre), about 5 km southwest from the town Louny, between two Czech highlands – The Dzban and The Central Bohemian Massive.
The first written records about this place are dated back to 1267, when the fortress was owned by the Knights of Jimlin. In 1453 Albrecht Bezdruzicky von Kolowraty took over this property thanks the agreement of the Bohemian king George of Podebrady, and had the new and proudly looking castle built and called it the Novy Hrad (New Castle). Since then, the noblemen living here used the new family branch name – the House of Novohradskych von Kolowraty. They left their residence a hundred years later, after the castle rebuilding into the more comfortable and cozy mansion. The earl Gustav Adolf von Warrensbach and his step-daughter transformed it into the place of the local high importance. In 1715 the mansion was a part of the property of the decadent countess Anna Barbora von Lowenegg-Tondeur. Later in the war-times the castle was destroyed and the whole manor got impoverished. In 1767 this estate was bought by the earl Joseph Adam von Schwarzenberg, the rich neighbor from nearby Postoloprty. The mansion got rebuilt firstly into the hunting lodge, later into the military hospital, and finally was used as any administrative buildings of their agricultural estate.
Shortly after the nationalization in 1947 the mansion used to be used as the shelters for the local cooperative farm. In that time the chapel of St. Joseph and the representative chambers were destroyed. In 70s the new reconstruction has started and it is not finished yet. In chambers of the castle we can see a lovely and valuable collection of the painted suspended wooden ceilings from the 17th century. We can also admire here the original Italian stucco decorations and gothic frescos coming from the time of Kolowraty, the outbuildings like smoke kitchen or the baroque drying house. From the tower, which is open for visitors, we can enjoy the landscape - the Ore Mountains and the horizon of the highlands Dzban.
In recent time the castle chambers got more furnished by the original stock and re-discovered canvases, which were stolen in the 19th century.
If you got interested in it, you are welcome in Jimlin in our opening time.
more information here:http://www.zameknovyhrad.cz/
source:http://www.louny.eu/places-of-interest/castle-novy-hrad/647/
---